Everyone's familiar with Facebook as it's nothing new. Facebook is one of the most used and famous social media platforms that has millions of active users all over the world. Since the beginning of its arrival, Facebook has found its way in the lives of people of almost all age groups like youngsters and even adults.
But it can also turn out to be a means of social crimes like bullying and cheating etc. Many people's true personality is revealed through their Facebook accounts so you never know what a person can turn out to be. So, in order to hack somebody's Facebook account, ClickFree is all you need.
Part 1: ClickFree – Hack Facebook Conveniently
ClickFree is one of the best hacking apps that can do the work of Facebook hacking for you. ClickFree is a proper Facebook hacker that can give you each and every detail of the Facebook account of any person you want to keep an eye on. That's why it's the best.
ClickFree has made it to the top through its unique and exclusive features that help you to get into the Facebook account of any person you wish. That is why it's user base has crossed millions and is still increasing. People from more than 190 countries make use of its services on a daily basis.
ClickFree has made highlights everywhere. Even the most famous and prominent media platforms are praising its services. Forbes, The New York Times, Android Authority, CNET and many more have reviewed ClickFree in the best ways.
Where features are concerned, you don't need to worry about that at all. ClickFree has the best ones in the market. Visit ClickFree site to know all about its design which is loaded with amazing and unique highlights that are rare to find in any other hacker.
Moreover, these features are so easy to use that you don't need even a little specified knowledge for using them.
With most Facebook programmer applications, rooting or jailbreaking the target device is mandatory. Hacking and jailbreaking require significant investment, it's unsafe, and is probably going to make the device's owner dubious.
ClickFree has worked with trend-setting innovation, in any case. It's one of the main applications in the market that can hack Facebook without jailbreak or root. You'll have the option to see the objective's Facebook account with no difficulty at all.
Facebook Hacking Features
Hacking Facebook is a lot easier with ClickFree. You can check out many things on the target Facebook account. Here are a few of them.
Check out Facebook messages: ClickFree can get you the private messages just as group discussions of your objective's Facebook account. You can find out who your objective is conversing with and what they're discussing.
Find erased messages: What if the other person erases a message or discussion they don't need any other person seeing? This is no longer something to worry now. ClickFree logs all messages to your device. You can get to all messages, including the erased ones too.
View timestamps: Every message your objective conveys or gets has a date and time stamp associated with it. With this data, you'll be able to know when an implicating discussion occurred – like when you were away.
See Contact details: Who is the target person conversing or chatting with? With ClickFree, you can gain admittance to your objective's contact book including their personal details and even their display pictures.
View media records: Is your loved one transferring private photographs or recordings to Facebook? Is it true that they are getting any private photographs? You can download all the photographs in your objective's phone gallery, including the ones they transferred to Facebook.
The Incredible Keylogger
Another  method to hack somebody's Facebook with ClickFree is to utilize the keylogger. ClickFree accompanies a ground-breaking keylogger device. If you're wondering what a keylogger is, it's the most useful thing ever. It's a program that records all the keystrokes made on the objective gadget.
Basically, ClickFree can record whatever the objective person sorts on the telephone. At the point when the phone's owner logs into Facebook with their username and secret word, ClickFree will log this data. It will, at that point, send the data to you. You can utilize these details to sign into your objective's Facebook account yourself.
Part 2: Spyic
On the second place is Spyic. Spyic is a telephone spy application with a viable Facebook hacking highlight. In the event that your objective possesses an Android or iOS gadget, you can make use of  Spyic to hack their Facebook Messenger and do much more.
Spyic is an application that works in a secretive way. You can set up and utilize the iOS variant of Spyic remotely, from any internet browser. You even don't have to introduce a real application. The Android adaptation of Spyic is a little, covered up application that can be utilized remotely once introduced.
Part 3: Spyier
Spyier is another amazing hacker when it comes to hacking Facebook easily. It is one of the best hackers in the market and can get you all you need.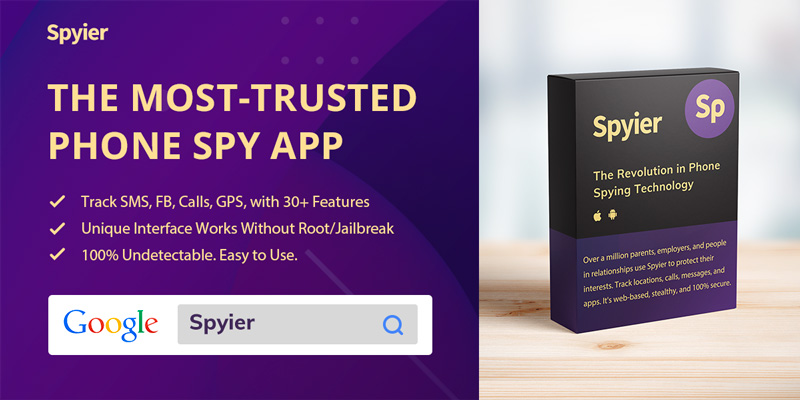 With Spyier, you have the option to see the objective FB account's messages, even the deleted ones too. You can also reach to the media files and contact information of the respective account.
Part 4: Minspy
Then it's Minspy's time to shine. With a position of the fourth best, Minspy has an incredible set of features that can help you hack not only Facebook but many other social media apps too.
Minspy is one of those apps that will let you hack the entire phone of the target person. If you wish to keep an eye on your kids and also follow your spouse secretly, then Minspy is the perfect app for you. You can view all the Facebook activity within just a few minutes.
Part 5: Spyine
The second last place is covered by Spyine. Spyine does a good job in hacking somebody's Facebook for you. It helps you to see everything on the respective account.
Spyine can likewise assist you in discovering the objective's username and secret password. The application accompanies an inherent keylogger. This keylogger can record your objective's keystrokes. So when they type in their username or secret key, Spyine will immediately let you know.
Part 6: Neatspy
Last but not the least, Neatspy ends our list of the top best Facebook hackers. Neatspy is one of the best hacking applications in the market. And it can do the work of Facebook hacking for you quite effectively.
With Neatspy, you can do a lot more than just Facebook hacking. It's a complete hacking solution that can hack the entire phone through its amazing services.
Conclusion
Summing it up, this list contains the world's top best hackers that can assist you in the task of Facebook hacking. You will have a wonderful experience using the ultimate best hacker ClickFree.